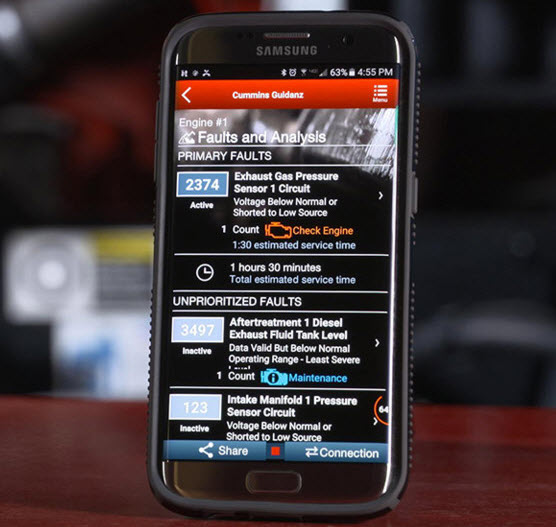 Technology continues to integrate itself in the diesel engine industry. The old guard is on its way out and 21st century technology is alive and well over at Cummins, Inc. The company announced the release of its new Guidanz mobile app which allows customers to access engine fault code and diagnostics within minutes.
The Guidanz app provides critical engine information about its on-highway engines as well as Tier 3 off-highway rated engine models. The information, once only found in thousands of pages of manuals is now available to customers a click of a button. The ease of use and real time data available is unreal. Every engine 2007 model year and later will featured on the app and be connected with authorized Cummins Dealers and Certified Independent Facilities.
The app works through Bluetooth connectivity with the engine. To receive real time engine data via your phone the ECM must be connected to Guidanz via the INLINE mini adapter or INLINE 7 full adapters. The ECM sends data to the adapter which pings the Guidanz app with an engine update report.
The data will be transmitted to the customer as well as operation managers, service centers or emailed directly to Cummins dealerships. Cummins calls the service "Immediate Assessment" The program will help Cummins read fault codes, diagnose the issue, assess the immediate health of the engine and schedule a repair time. The app will even crea
te a work order and deliver the appropriate parts for the job to the service bay all without the customer having to do anything.
Even in offline mode the Guidanz system will still operate with a Smartphone or Tablet. The Bluetooth connectivity of INLINE will always ping the users phone with fault codes and engine status alerts. This means that even in remote locations such as an underground mine or an offshore oil rig operation managers can still access engine data and call or email Cummins at their leisure.
Cummins joins the list of heavy duty equipment manufacturers that are integrating diagnostic software into their products. Caterpillar and John Deere already have programs in place which are generating more service business for local dealerships. In the past many of these diagnostics issues would go unnoticed until a major problem arose. Now a small problem can be fixed before a major issue occurs. This save the customer time and money as well as generates a new stream of revenue for local service centers. The app is a free download available from the Apple App Store and Google Play Store and works with the iOS or Android Operating System.