Cylinder Head remanufacturing is a meticulous and overly detailed process which is only perfected by master craftsman like we employ here. Not everyone is cut out to remanufacture cylinder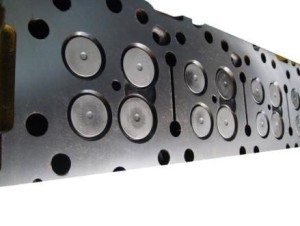 heads and we employ only the best cylinder head reman experts. Our state of the art ISO 9001 level machine shop is equipped to handle both diesel and natural gas remanufactured cylinder heads from very small truck cylinder heads all the way up to giant Caterpillar 3600 series heads.
We offer a whole host of cylinder head repairs including valve seat replacement, valve guide replacement and injector tube replacements. In addition to various replacements we restore damaged pin bores and resurface the exhaust manifold and decks. Other common cylinder head repairs include fixing cracks in the casting via cold or hot oven welding techniques, repairing damaged cam bushing bores along with repairing damaged exhaust manifold stud holes. After making all of the necessary repairs to the remanufactured cylinder heads we re-assemble the cylinder head have our Quality Control department check the valve heights then vacuum check the seal between the valve seat and the valve face. The entire cylinder head is magafluxed and pressure tested using our Newclear water and vacuum testing process. Our entire 13 step remanufacturing process for our cylinder heads is presented in its entirety on this page.
Our most popular cylinder head models are below:
•    Detroit Diesel 60 Series 12.7L 8929620 Cylinder Heads
•    Detroit Diesel 60 Series 14L 23529682 Cylinder Heads
•    Detroit Diesel 60 Series 14L 23533689 Cylinder Heads
•    Caterpillar C-15 / 3406E 4P1599 Cylinder Heads
•    Caterpillar C-15 / 3406E 1567342 Cylinder Heads
•    Caterpillar C-15 / 3406E 1427340 Cylinder Heads
•    Caterpillar C-15 / 3406E 1769917 Cylinder Heads
•    Caterpillar C-15 / 3406E 1755329 Cylinder Heads
•    Caterpillar C-15 ACERT 2221982 Cylinder Heads
•    Caterpillar C-15 ACERT 2778240 Cylinder Heads
Call Capital Reman Exchange Today at 1-844-239-8101 For Immediate Sales Service